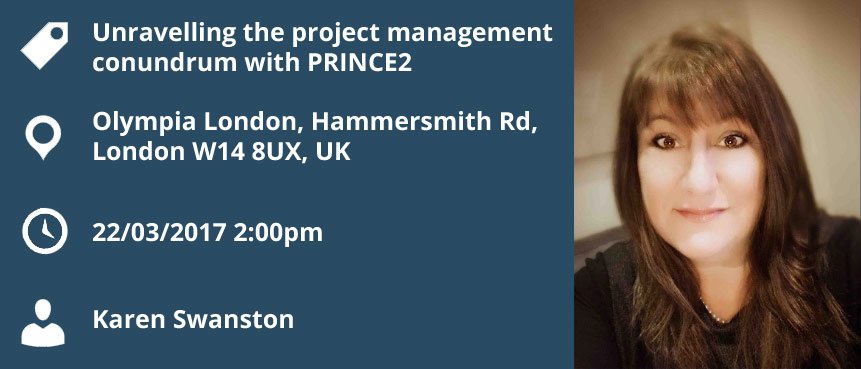 Free PRINCE2 Presentation – Project Challenge Spring Show 2017
Posted on Thursday, 23rd February 2017 17:51. Submitted by ILX Marketing Team
Karen Swanston, one of our experienced trainers, will be speaking at the upcoming Project Challenge Expo in Olympia, London on 22 March. Make sure you see her 2pm session, unravelling the project management conundrum with PRINCE2.
Learning PRINCE2 can be very exciting. Perhaps even more so is the chance to implement it at work. Despite that, many people are intimidated by PRINCE2, perhaps because of its high reputation in project management. Some of the concerns people have include knowing what to expect, understanding the framework, being able to do it and pass the exam.
This session will introduce the basics of the PRINCE2 framework. Along with some quick and easy-to-use hints and tips, we'll show you how easy it can be to learn PRINCE2.
Karen Swanston has been a very enthusiastic and experienced PRINCE2 trainer for more than eight years. Prior to that, she also worked for Yorkshire Electricity, Sheffield City Council and South Yorkshire Fire & Rescue. Some of the organisations Karen's worked with and supported include Lloyds, RBS, the International Atomic Energy Agency (UN), the FCA, Bloomberg, Atradius Credit Insurance, Dong Energy and ASDA.
Karen's experience is matched by her passion for designing and delivering training in a fun and easy manner. This is why she consistently receives above average feedback and exam results from her students. This blend of experience and enthusiasm is also why she's the ideal speaker for this PRINCE2 session.
ILX Group will be also be represented as a Project Challenge Expo exhibitor. You can visit us at stand 80 on 22 and 23 March. Project Challenge Expo is an independent trade show for projects, programmes, process and resource. For those in the field of project expertise, there's always a lot to learn from these events. Along with Karen Swanston's session on 22 March at 2pm, you can visit ILX Group from 9:30 to 17:00 on the 22nd and 9:30 to 16:15 on the 23rd. The event is at Olympia, located on Hammersmith Road.