PRINCE2 PMMM Case Study
Vodafone - UK TS and PMMM Level 3
In 2003 the Telecom Systems Department of Vodafone UK Technology (TS) took part in the trials of the Cabinet Office, Project Management Maturity Model (PMMM). It saw this as an opportunity to benchmark itself against an emerging standard.
As a result of the feedback from the trial and internal business pressures, TS decided in 2004 that they would achieve 'Level 3' accreditation using the Cabinet Office PMMM as a key step towards improving their project delivery capability.
Vodafone already had as a policy the use of PRINCE2 as the preferred method to manage projects and decided to obtain "Level 3" in the PRINCE2 Maturity Model (P2MM) in order ensure its use was pragmatic and fit for purpose.
The "improving capability" project was initiated in April 2004 using PRINCE2 and was completed in December 2004. It was broken down into five main management stages
Initiation – base line current capability
Investigation – determine the solution and create standards
Training – in the new standards for different stakeholder groups
Roll out – convert all existing work to meet the new standards
Assessment – formal assessment against PMMM and P2MM.
Vodafone was the first organisation to be awarded level 3 by the APM Group in both PMMM and P2MM.
By the end of the project a £1.2M saving was already directly attributable to the project, with projected benefits £16M capex.
The objectives of this project were to:
Improve TS's project management capability to deliver the right business projects at the right time
Ensure that the anticipated benefits of the projects can be identified, measured and realised
Make TS the 'centre of excellence' for project management in the Vodafone organisation.
TS selected ILX Group as its consulting partner to support delivery of these goals and work within Vodafone TS's existing project management framework. As the project progressed, the project itself was subject to each new process as it was integrated. As a result the project effectively role modelled its own improvements.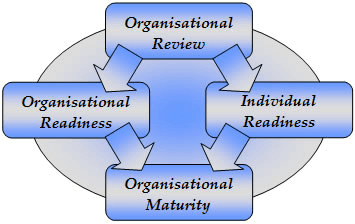 The 'Project Management Capability' project delivered the effective development and integration of end-to-end project management processes, compliant with 'Level 3' of the the Cabinet Office's Project Management Maturity Model and the PRINCE2 Maturity Model, into the Vodafone UK Telecom Systems department.