PRINCE2 Case Study - Pension Protection Fund
Holistic Best Practice
The Pension Protection Fund (The Fund) is a 'non-departmental public body' (established under the provisions of the Pensions Act 2004) which became operational on 6 April 2005.
From the start it was clear that The Fund would have to develop rapidly in order to meet its commitments under the act. The concern about such a large amount of fundamental change occurring simultaneously, in an organisation where any defined controls were themselves in their infancy, triggered a search for an appropriate 'best practice' solution for the management and delivery of change.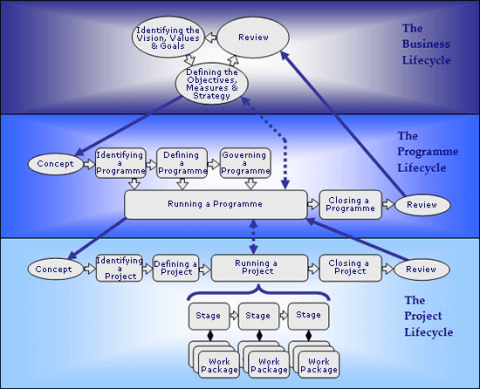 A short definition exercise concluded that a solution was required that satisfied the following criteria:
Ready within 6 months
Compliant with the Cabinet Office 'best practice' – Managing Successful Programmes (MSP) and Managing Successful Projects with PRINCE2 (PRINCE2)
Inextricably linked organisational strategy with actual delivery
Provided a 'management by exception' control framework not a process "straitjacket"
Would embed into, rather than overlay The Fund's evolving processes
Did not risk delaying existing ongoing projects.
In November 2005 the 'Project and Programme Capability Project' was kicked off with the following objectives:
To develop and implement appropriate principles and processes, congruent with the organisation's existing processes and culture, to affect a complete and coherent, end-to-end programme and project governance and delivery capability enabling realisation of the organisations planned and evolving strategic objectives. Overall solution to meet the requirements of Project Management Maturity Model (level three) and PRINCE2 Maturity Model (level three)
To develop existing staff, enabling them to work effectively with the new processes, as well as enabling them to contribute to the ongoing development and improvement of the capability over time. Staff development plans in respect of the new practices to meet the requirements of Portfolio, Programme and Project Management Maturity Model (level three) and PRINCE2 Maturity Model (level three)
To develop and implement a programme management office (PMO) capable of:

Providing "an accessible source of advice and practical support to project staff"
Providing "relevant, timely and accurate" information and reporting against all the organisation's programmes and projects
Ensuring compliance with programme and project processes as well as consistency of approach
Driving and promoting the development, effectiveness and efficiency of the capability ongoing.
The project was delivered as a PRINCE2 project in five stages:
Investigation – existing practices and culture
Development – organisational processes and guidance / individual skills assessment and training plans
Training – tailored method training for project managers, programme managers, project & programme teams and project & programme governance
Transition – start moving from old ways of working to new
Assessment – formal assessment of method and its initial use within the Pension Protection Fund.
The solution developed was based on the requirements of level three of the PRINCE2 Maturity Model (P2MM) and the Project Management Maturity Model (PMMM). Following its launch in April 2006, the Portfolio, Programme and Project Management Maturity Model (P3M3) superseded PMMM as the generic method benchmark and was successfully used in the final assessment.