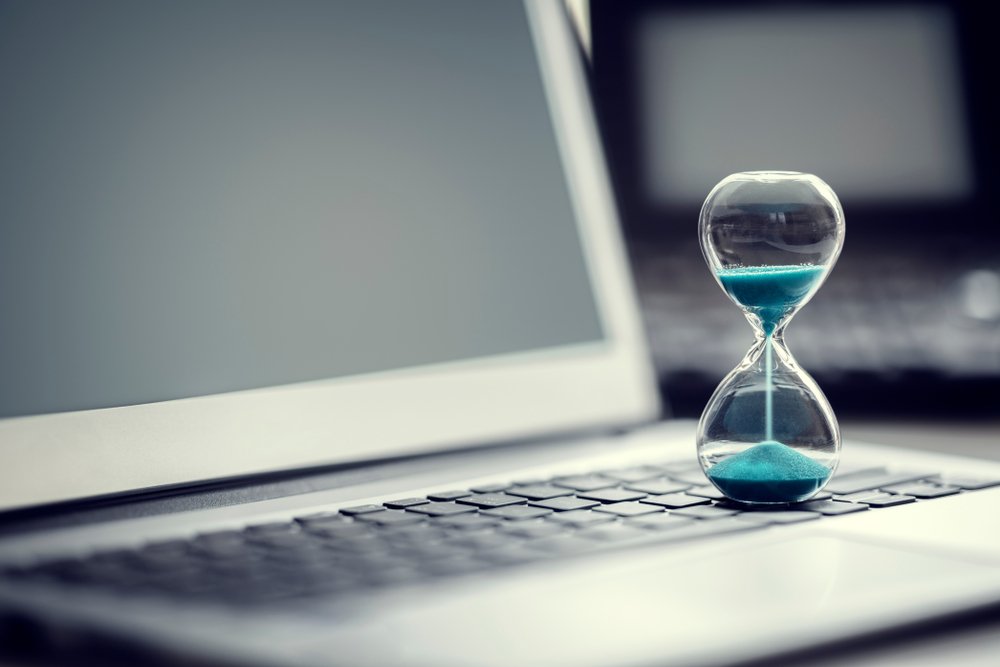 How to meet seemingly impossible project deadlines
Posted on Monday, 23rd November 2020 15:20. Submitted by ILX Marketing Team
It is reported that only around half of all projects come in on time. Seemingly impossible deadlines are the downfall of many projects, and late delivery is reported to be the reason why projects fail to an extent 49 percent of the time.
So, what action can we take when deadlines are fast approaching? Here we look at the tactics project professionals can adopt in order to complete projects on time, even when the odds are stacked against them.
Be realistic from the start
The first, and arguably most important step to meeting any deadline, is to be realistic about its achievability from the get-go. Take the time at the project initiation stage to set out what resources and budget are available to the project and map out whether meeting the deadline is possible. If it's not, recognise this, and take action.
Going back to senior management and stakeholders with the news that the project meeting their deadline is impossible will cause disappointment, but it is by far the better option than inevitably missing the deadline further down the road. Create an open dialogue with them. Maybe the project can be extended after all, or perhaps there is some extra budget available to take on more staff or resources. It is paramount that you flag the challenges and go back to seniors to negotiate.
Project managers can be particularly guilty of promising the earth when shooting to win new business. But by being realistic about the ability to meet a deadline at the pitch stage, expectations are better managed, and reputations can be saved.
Scale back the scope
If an impossible deadline is truly immovable and extra resources are out of the question, a perfect resolution can be scaling back the project scope. Again, this is best negotiated at the initiation stage of a project.
Work with your client or management on a version of the project which has a second phase. The first phase should be fully-functioning, but a paired-back spec with some 'nice-to-have' features removed, which can then be added and built upon as part of a follow-up project. Generally speaking this approach pleases everyone – the client gets their key deliverables by the deadline, and you get the repeat business of a second phase of the project.
Again, prioritise open communication. Even if you start out full of optimism and sure you are going to complete in time only to realise half way down the line that the scope is not realistic, then ensure you communicate that to your bosses.
Upskill across the board
Generally speaking the more skilled and experienced your team are, the more successful the project will be. PMI's Pulse of the Profession survey 2019 evidenced this when they studied the performance of PMTQ Innovators vs. PMTQ Laggards.
[PMTQ stands for Project Management Technology Quotient. TQ refers to how able a person is to adapt, manage and integrate technology based on the needs of the organization or the project at hand.]
The study measured performance of Innovators - those who prioritise digital skills and knowledge and commit to a strong project management culture, versus the laggards for whom these are less of a priority. The findings were astounding, with PMTQ innovators far more likely to complete a project on time, and meet original goals compared with PMTQ laggards.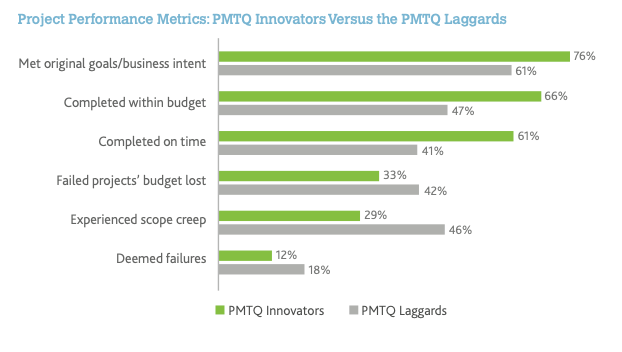 The study concluded that PMTQ innovator organisations take the lead on project outcomes. They save money, improve stakeholder satisfaction rates, meet goals, and deliver on time and within budget, whilst also reducing scope creep and outright failure.
The key difference between laggards and innovators is their technology knowledge and skills, and their core Project Management capabilities. This tells us that organisations who prioritise project management skills development, provide ongoing training and have formal processes for developing competencies, are more likely to succeed.
The takeaway: by actively taking steps to upskill across the board in key areas such as core project management skills, and technology know-how, project professionals can thrive, meet deadlines, and make projects a success.
Up your resources
Extra resources can push you over budget, but if you have followed our advice to be realistic from the start, then taking on extra resources and/or extra staff can be a great option for ensuring you meet a deadline.
Having a business "little black book" of contacts who you can call upon - even at short notice - can be an invaluable resource. Your connections should include:
A bank of freelance professionals who can be the extra help you need for any given project. Freelancers are perfect for projects that need skilled professionals on a short-term basis.
Temporary office, desk, or meeting spaces - whether in a different city, or simply in addition to your existing office. WeWork and similar companies are an ideal solution for this.
Flexible technology contracts - software or hardware resource which you may not need year round but you can employ on a by-project basis, or even extra manufacturing resource which you can call upon on a temporary scale.
Having a network of contacts can be of great benefit. Be sure to have more than one contact for each skill/area in case one is unavailable, or simply because they will have differing specialisms.