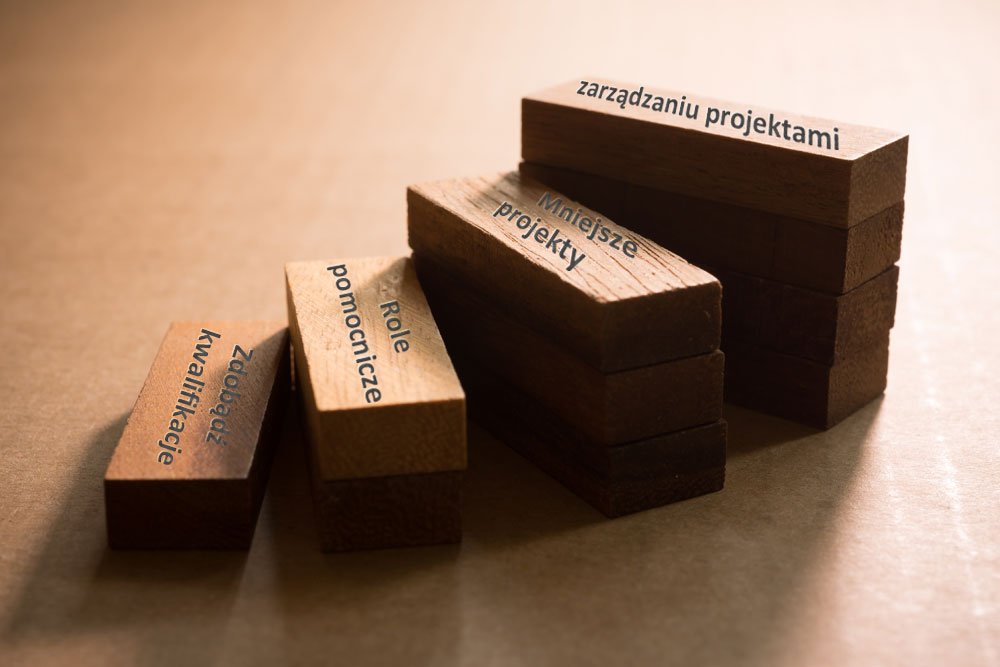 Jak rozwijać swoją karierę w zarządzaniu projektami
Posted on Wednesday, 11th August 2021 16:35. Submitted by ILX Marketing Team
Pełnienie funkcji kierownika projektu może dawać dużą satysfakcję i możliwość pracy w różnych sektorach biznesowych, takich jak IT, budownictwo, inżynieria i handel detaliczny.
Praca ta jest bardzo urozmaicona, umożliwia kontakty z ludźmi, korzystanie z nowych technologii, doskonalenie umiejętności, szkolenie i dalszy rozwój kariery. Poniżej wytyczyliśmy ścieżkę kariery, którą może podążać kierownik projektu, wraz z użytecznymi wskazówkami, które pomogą Ci w rozwoju.
Krok 1: Zdobądź kwalifikacje
Uzyskanie uznanych kwalifikacji w zakresie zarządzania projektami lub studia z zarządzania to dobry pierwszy krok. Wielu kierowników projektów rozpoczęło swoją ścieżkę kariery poprzez awanse w firmie, często zdobywając kwalifikacje w toku swojej szerszej kariery.
Oprócz szkolenia PRINCE2® każdy może studiować zarządzanie projektami w ramach studiów licencjackich lub magisterskich. W zależności od czasu i budżetu, jakimi dysponujesz, nauka metodyki PRINCE2 w ramach szkolenia internetowego może być bardziej odpowiednia.
Krok 2: Przyjmuj role pomocnicze w zarządzaniu projektami
Większość kierowników projektów, posiadających lub nieposiadających kwalifikacji, zaczyna karierę jako asystenci projektów, personel pomocniczy działu IT i zarządu, koordynatorzy i analitycy. Zdobywają doświadczenie w swojej branży i uczą się od innych kierowników projektów. Niektórzy zgłaszają się na ochotnika jako koordynatorzy projektów lub członkowie personelu pomocniczego; często tych możliwości jest jeszcze więcej.
Jeśli objąłeś rolę związaną z zarządzaniem projektami, nie posiadając kwalifikacji opisanych w kroku 1, ale czujesz się na siłach do zaaplikowania lub awansowania na stanowisko kierownika projektu, najwyższy czas na naukę i uzyskanie kwalifikacji. Okres przechodzenia od ról związanych ze wsparciem projektu do zarządzania projektem wynosi ogólnie od około pięciu do dziesięciu lat. Zaleca się zachowanie dokumentacji dotyczącej całej pracy w zakresie zarządzania projektami, ponieważ może Ci to zdecydowanie pomóc podczas zdobywania przyszłych kwalifikacji.
Krok 3: Prowadź mniejsze projekty
Świetnym sposobem na pokazanie inicjatywy jest proponowanie i prowadzenie małych projektów, takich jak opracowanie nowego procesu lub adaptacja obecnego procesu, tak aby był bardziej wydajny. Sporządź mapę procesu i pokaż, co można zautomatyzować lub nawet usunąć. Przetestuj swój nowy proces, aby mieć pewność, że jest on lepszy niż poprzedni i sporządź sprawozdanie dla kierownictwa, w którym zaprezentujesz możliwość oszczędności czasu i kosztów.
Krok 4: Po zarządzaniu projektami
Od zarządzania projektami droga wiedzie do szans na awans w hierarchii korporacyjnej na stanowiska takie jak dyrektor programu lub dyrektor IT, dyrektor operacyjny (COO) i dyrektor generalny (CEO). Inną ścieżką kariery jest założenie firmy zajmującej się zarządzaniem projektami w ramach outsourcingu.
Doradztwo zawodowe w zakresie zarządzania projektami
Postaw na networking: Project Insight oferuje cenną wiedzę na temat ścieżki kariery w zarządzaniu projektami. Podzielili się nią odnoszący sukcesy kierownicy projektów, tacy jak Bertrand Duperrin z Emakina i Dan Pink, autor książki Jak być dobrym sprzedawcą, który promuje networking jako świetny sposób rozwoju kariery kierownika projektów.
Bądź elastyczny: portal z ofertami pracy Ranstad uważa, że komunikacja, delegowanie i elastyczność są kluczem do rozwoju kariery w zarządzaniu projektami. Zarządzanie klientami nie zawsze jest łatwym zadaniem. Dobrym punktem wyjścia jest nauka dochodzenia do kompromisu między tym, czego chce klient, a praktycznymi aspektami tego, co jest możliwe.
Dbaj o komunikację: czasami bardzo łatwo jest zrobić wszystko samemu, ale takie podejście mija się z celem roli kierownika projektu. Bardzo ważna jest doskonała komunikacja i budowanie relacji, podobnie jak nauka delegowania zadań – zwłaszcza specjalistycznych – członkom zespołu.
Nie przestawaj się uczyć: szczególnie w pierwszych latach kariery kierownika projektu niezbędny jest rozwój osobisty i uczenie się od innych. Będąc na bieżąco z nowymi technologiami i najnowszymi koncepcjami, możesz być cały czas o krok przed innymi. Przede wszystkim zawsze bądź przygotowany na niespodzianki i ucz się na błędach innych.
Myśl pozytywnie: kariera w zarządzaniu projektami może być urozmaicona i satysfakcjonująca. Stanowiska kierowników projektu mogą się od siebie różnić, a na drodze rozwoju kariery kierownika projektu nie ma ścisłych zasad. Jednak właściwe podejście, rozwijanie odpowiednich umiejętności, wykorzystywanie pojawiających się szans i uczenie się ze swoich doświadczeń to wielkie kroki w Twojej karierze.