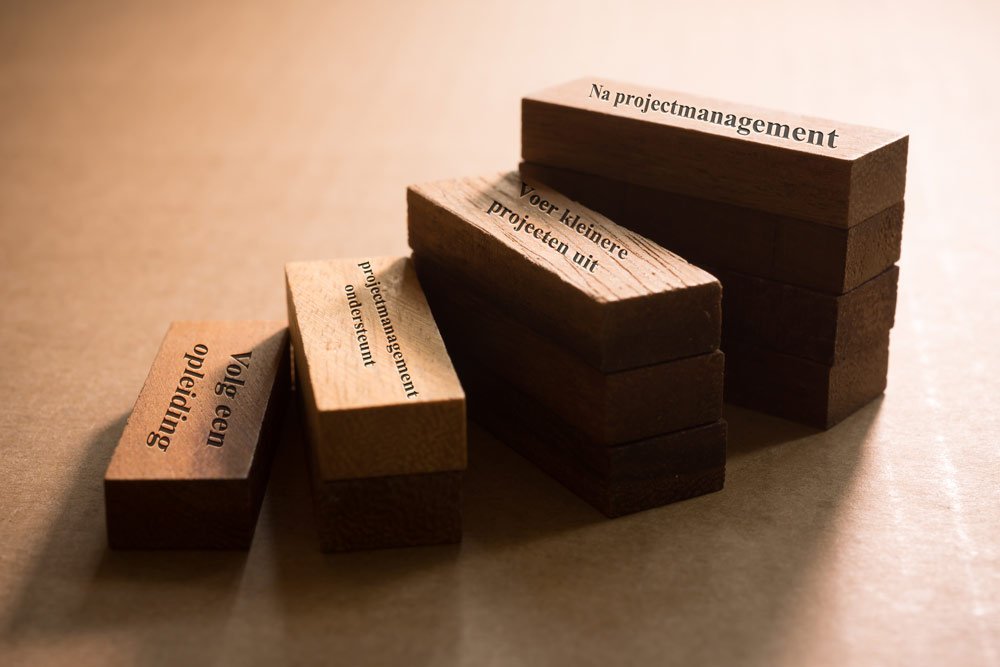 Hoe ziet het carrièrepad van een manager eruit?
Posted on Monday, 9th August 2021 16:42. Submitted by ILX Marketing Team
Het werk van een projectmanager kan zeer de moeite waard zijn. U hebt de mogelijkheid om in verschillende bedrijfssectoren te werken, zoals IT, constructie, engineering en retail.
Er is genoeg variatie in werk en interactie met mensen. U werkt met nieuwe technologieën, verbetert uw vaardigheden en krijgt kansen om bij te leren en hogerop te komen. We hebben hieronder een voorbeeld van een loopbaantraject van een projectmanager beschreven samen met enkele handige tips om u te helpen vooruitgang te boeken.
Stap 1: Volg een opleiding
Het behalen van een erkende kwalificatie in projectmanagement of een diploma in management is een goede eerste stap. Veel projectmanagers begonnen aan hun loopbaantraject via progressie door het bedrijf en studeerden vaak voor hun kwalificaties als onderdeel van hun verdere carrière.
Behalve PRINCE2®, zijn er meer mogelijkheden om projectmanagement te studeren als onderdeel van een bachelor- of een masteropleiding. Afhankelijk van uw tijd en budget, zou het misschien gemakkelijker kunnen zijn om PRINCE2 via een online cursus te volgen.
Stap 2: Ga werken in een rol waarin u het projectmanagement ondersteunt
De meeste projectmanagers, met of zonder kwalificaties, beginnen hun loopbaan als projectassistent, IT- en managementondersteunend personeel, coördinator of analist. Ze doen ervaring op in hun branche en leren van andere projectmanagers. Sommige mensen doen vrijwilligerswerk als projectcoördinator of ondersteunend personeelslid; er zijn veel mogelijkheden.
Als u zonder kwalificatie een projectmanagementfunctie hebt aangenomen, zoals in stap 1, maar u er wel vertrouwen in heeft om te solliciteren of een promotie te accepteren naar een positie als projectmanager, is het nu tijd om een opleiding te gaan volgen. Het algemene tijdspad voor de overgang van projectondersteuning naar projectmanagement is ongeveer vijf tot tien jaar. Het is aan te bevelen om een ​​overzicht van uw projectmanagementactiviteiten bij te houden. Dit kan belangrijk zijn voor een toekomstige kwalificatie.
Stap 3: Voer kleinere projecten uit
Een geweldige manier om initiatief te tonen, is door kleine projecten voor te stellen en uit te voeren, d.w.z. een nieuw proces te ontwikkelen of een actueel proces aan te passen dat efficiënter is. Breng het project in kaart en stel voor wat er kan worden geautomatiseerd of zelfs worden verwijderd. Test uw nieuwe proces om er zeker van te zijn dat het een verbetering is ten opzichte van het oorspronkelijke proces en schrijf een verslag aan het management over hoe tijd en kosten kunnen worden bespaard.
Stap 4: Na projectmanagement
Vanaf hier zijn er mogelijkheden om hogerop te komen in zoals programma- of IT-directeur, chief operating officer (COO) en chief executive officer (CEO). Een ander carrièrepad is het opzetten van een consultancybedrijf in projectmanagement.
Loopbaanadvies in projectmanagement
Ga netwerken: Project Insight biedt waardevolle inzichten in het carrièrepad van succesvolle projectmanagers zoals Bertrand Duperrin or Emakina en Dan Pink, auteurs van To Sell is Human. Zij staan er volledig achter dat netwerken een goede manier is om verder te komen in een ​carrière als ​projectmanager.
Wees flexibel: Randstad is van mening dat communicatie, delegatie en flexibiliteit belangrijk zijn voor een verdere carrière-ontwikkeling in projectmanagement. Het managen van klanten is niet altijd gemakkelijk en het biedt een goed platform om vanuit te werken om te leren compromissen sluiten tussen wat de klant wil en wat vanuit praktische aspecten mogelijk is.
Communiceer: Het kan maar al te gemakkelijk zijn om alles zelf te doen, maar daarmee gaat u voorbij aan de doelstelling van een projectmanager. Goede communicatie en het opbouwen van goede contacten is cruciaal, net als het leren om taken te delegeren aan teamleden, met name gespecialiseerde taken.
Blijf leren: Het is van belang om uzelf te blijven ontplooien en te leren van anderen, met name in de beginjaren van een loopbaan als projectmanager. Door op de hoogte te blijven van nieuwe technologieën en de nieuwste denkwijzen, helpt u om voorop te blijven lopen. Wees er altijd op voorbereid dat er onverwachte zaken kunnen gebeuren en leer ook van de fouten van anderen.
Blijf positief: Een carrière in projectmanagement kan gevarieerd en dankbaar zijn. De rol van de ene projectmanager hoeft niet noodzakelijk te lijken op die van een andere, en er zijn geen strikte regels voor het loopbaanpad dat u tijdens uw carrière als projectmanager volgt. Maar het aannemen van de juiste instelling, het ontwikkelen van de juiste vaardigheden, het nemen van kansen wanneer ze zich voordoen en het leren uit ervaring, zijn allemaal belangrijke stappen in uw carrière.